June 4, 2019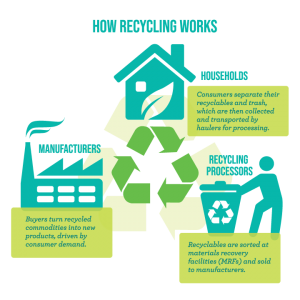 It's important to understand recycling always had a cost. This cost is factored into the fee households are charged for collection of recycling and disposal of trash. For many years, the recycling fee was very low because of robust markets for recyclable commodities. However, due to the global recycling crisis, the cost of recycling has recently increased. This is primarily driven by lower prices that MRFs receive for selling recycled commodities to manufacturers. To keep recycling sustainable in Lancaster County, the fee for curbside recycling must increase* to cover the rising costs of transportation and processing, combined with low market prices.
WHY WE ALL NEED TO RECYCLE RIGHT!
1. It's good for the environment. Recycling reduces the need for raw materials and uses less energy; therefore, helps preserve natural resources.
2. It's the law. Under Act 101, most PA residents are required to recycle.
Learn more about recycling in Lancaster County by visiting recyclerightlancaster.org.
* This is a pass-through cost LCSWMA pays to our local MRF.